To add a new application go to the "Applications" tab and there use the "Add new application" button. A new window will pop up so that you can insert the application's details: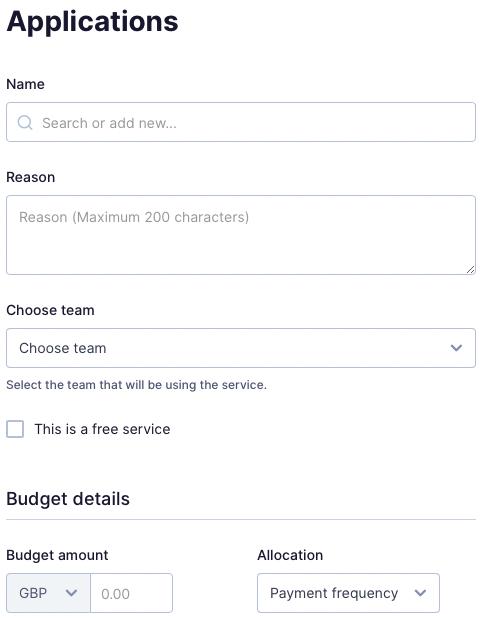 You can search the application from the list or else add a new one.
Afterwards, you can add the reason why that application is needed or used for, as well as assign it to a specific team.
As some applications do not involve a charge, you can choose the option to not create a virtual card for this application, in which case you don't have to add the budget details.
Otherwise, you can select the currency in which the payment is made as well as the frequency (weekly, monthly, quarterly etc.).
Lastly, just select the payment options that best suit your needs: budget flexibility, automatic flush and the first top-up date.
Everything looks good? Then press the "Add application" button at the bottom of the page.
If you need approval for this request, it will be sent to the admins and your designated approver. Otherwise, the application will be automatically created and so will the virtual card (if needed).
Once your request is approved or if it is created straightaway, you can check the details of the credit card by accessing the application in the "Applications" tab and using the "View card details" button.
With those details in hand, you can now go to the application provider and change the card payment details to the newly created card.
From now on the charge for the application will be made to this card and will be able to monitor the expense and easily deactivate the card if needed.