Whenever you go into an app that you have already set up, you will be presented with the following tabs:

Let's see what we will find in each tab:
Overview
In the Overview tab, you can see application details and budget details.
Main application details are visibile to all users, while budget details are only visible to the App owner, Admins, Finance users, and Team managers of the team the app is under.
Settings for the application can be done on this tab:
Teams that use the application
Customisable tags
One-off or regular email reminders
Number of seats that are active in the subscription
Payments
The Payments tab gathers all the transactions that take place for the payment of the app. That is when funds are pulled into the card when the charge is made by the merchant and when funds are pushed back to your main account.
In the Payments tab, you also have the option to view or manually upload an invoice to the transaction.

Notes & Attachments
In Notes & Attachments, Application Owners and Admins can add notes and upload any files you may want in regards to this app. It could be anything from a copy of the contract signed with the provider to the discussion on which plan you should be on:
This tab is only visible for Application Owners, Team Managers and Finance and Admin users.
Change history
The Change history tab will show you a summary of all the changes that have taken place regarding the app creation and the budget.
If someone requests a budget change or does it directly, the change will be shown there, next to their name.
This history also includes card detail access, which means you can see who have accessed which card and when.
Xero settings
Under Xero settings you will be able to determine how the transactions related to this app appear in your Xero account, or whether they should appear at all.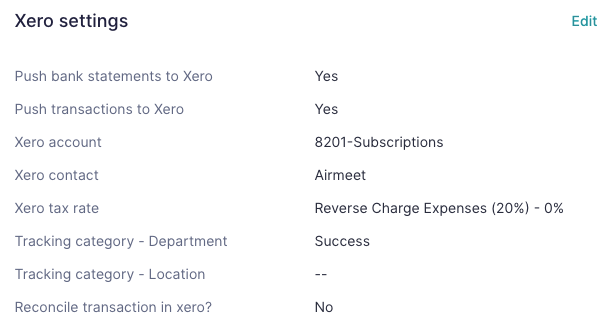 Note that the Xero settings tab will only appear if you have the Xero integration enabled.
Compliance
In the Compliance tab, the related information will be gathered for quick and easy access for interested parties.
Note that the Compliance tab will depend on the plan you have and the activation of the compliance feature.
Accounting
In the Accounting tab, you can set a GL code or cost centre to this app. You can also add extra reporting fields for your bookkeeping needs. All of these will appear as columns in the .csv file if you export your transactions.