If you have a long list of subscriptions that you want to add to Cledara you can make use of the option of importing applications in bulk.
To do so, go to the "Applications" tab and then use the "Import" button.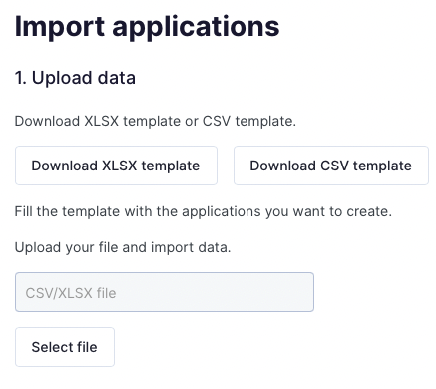 Download one of the template files, we recommend using the XLSX file. In there you will find two pages, the first with the instructions on how to fill the fields and the second with the table that you can fill with your subscriptions' details.
Once you have filled the second page with the information required save the file and upload it using the "Select file" button.
After that, Cledara will automatically invite the owners that you have set (if they were not users of Cledara already) and create the teams set in the file (if they didn't exist already).
Lastly, you will be able to review the applications that will be created before your applications are automatically created and their respective cards.
You can then check the details of the cards created and updated the payment details with each merchant.
The option to bulk import applications is available only for Admins.