To edit and customise your Compliance questionnaire, head to Compliance > Questions. There, questions are categorised into 5 sections:
Business case
Details of the product/service
Risk assessment
Contract review
Exit plan
A conditional section that will only appear if you answer Yes to the question "Based on the risk assessment, above, is the product/service critical or important for your company?" in Risk assessment.
Finance users can only view the questions by searching and filtering, but Admin and Compliance users will be able to add new questions, edit them, and disable all default questions.
To set up questions
Add New question brings up a pop-up window to customise the questions and answers.

The index number controls the order that the questions appear.
The displayed question number is automated and cannot be edited. It might differ from the Index number as some questions have an Index number but are not active, and hence do not have a Question number.
Text is where you type the question itself.
Once the Display if box is checked, this question is only shown if a specific answer is given to another question.
To use a question as a condition of another question:
The answer type has to be Select.
The question has to be active. Once it is used as a condition, the question can no longer be disabled.
To set up answer types and options

You can specify the type of answer you expect respondents to input:
Date
File (supports file types jpeg, img, bmp, pdf)
Money amount (the currency is set to the default for the account)
Multiple choice
Number
Select
Text area (multiple lines)
Text box (single line)
If you need multiple answers for the same question, you can add additional answers by clicking the
button: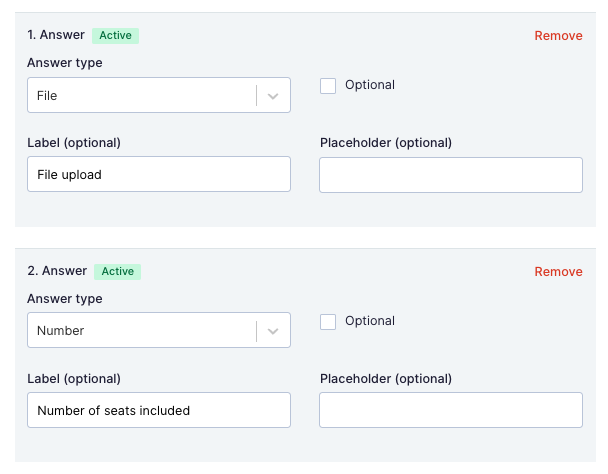 And both answer fields will come under the same question:
The Optional checkbox makes the answer optional for respondents.
Label is a line of optional text that appears just below the questions.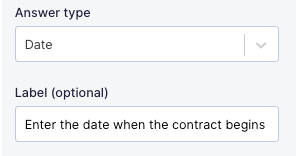 It can be used as a description for the question:

Placeholder is a line of optional text that appears inside the answer field.

It can be used as an instruction for the answer:

Use score is available for Risk assessment questions to assign risk scores to answer options:
Navigate to the Risk assessment tab.
Choose Select as the Answer type.
Check the Use score box.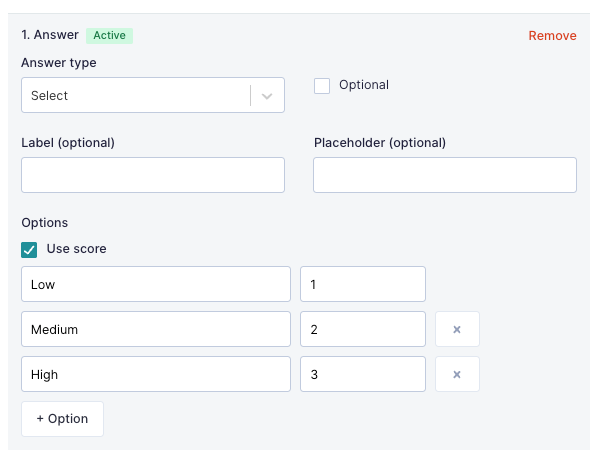 The total score is calculated and included in the question titled "Conclusion of risk assessment", which is indexed as 45 by default.

This score is for your internal use only. Your total risk score has no implications for scores within Cledara.
To edit questions
Only Custom questions can be edited. While Default questions cannot be edited, they can be disabled.
If you want to design your Compliance questionnaire from scratch, you can also click the

button at the top right of the tab.
To disable and delete questions
All questions can be disabled in your questionnaire, but only custom questions can be deleted irreversibly.
Questions that have the label

 cannot be disabled since they are a pre-requisite of another question. You can find out which questions use them as a condition by clicking

next to the label. 
When there is no active question in a section, that section will no longer be visible in the Compliance tab.