Admins can enable Transfers from your workspace to pay invoices directly from each application in Settings > Preferences > Global Preferences.
You can have both virtual cards created and transfers enabled for an application at the same time. This means you can switch easily between payment methods for the same vendor.
By toggling Transfers on, you have the option to enable transfers for all applications, which means that all applications are open for requests for payment by wire transfer.
Alternatively, you can also opt to enable Transfers for each application individually. This means that you will manually enable the feature from within the application only when it is necessary: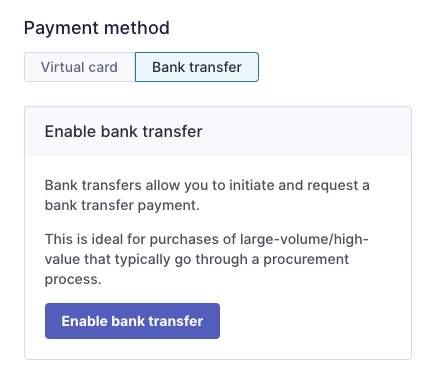 Once the feature is enabled, you can make same-currency transfers from your Cledara account.
EUR transfers will be made via SEPA
GBP transfers will be made via Faster Payments (FPS)
Heads up: Payment by Transfers is a feature available in our Pro plan.
If you are interested in the feature, feel free to contact us at support@cledara.com about upgrading your plan.