Starting August 1st, we will implement some changes to the platform so that you have more visibility on the status of your transactions.
Any payments that have been initiated but not yet collected by the merchant will be marked as pending. The date shown on the platform corresponds to the date you make the payment. At this stage, your money has been reserved for that payment.

Once the transaction is settled, in other words, when the merchant has taken the money from your account, the pending status will disappear, and you will see the date of settlement in the Description: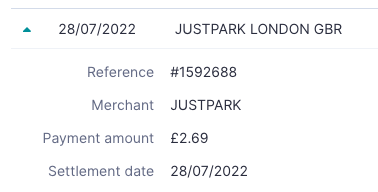 FAQ
What happens if the merchant does not take the money?
If for any reason the merchant does not take the money, the pending transaction will disappear, and the reserved funds will become available to use again.
Why can't I see the transaction in Xero?
We will only push the transaction to Xero once the money has left your account. Thus in Xero, you will not see transactions that are still pending.
Why can't I see the transaction in my statements?
Once the transactions are settled, they will appear in the statements with the date of settlement. If the transaction is not settled on the same day as the date you made the payment, then you will have to adjust the timeframe of your export to include the date of settlement.
Why did the transaction amount change?
If you make a payment in a currency different from that of your account, the converted amount might change due to exchange rate fluctuation between the date when the payment was initiated and the moment it settles.