Cledara's integration with Quickbooks simplifies your accounting process by automatically syncing bills, bill payments, and invoices to your Quickbooks account.
Once you've connected Cledara to your Quickbooks account, the Quickbooks settings tab will appear when you click into your applications: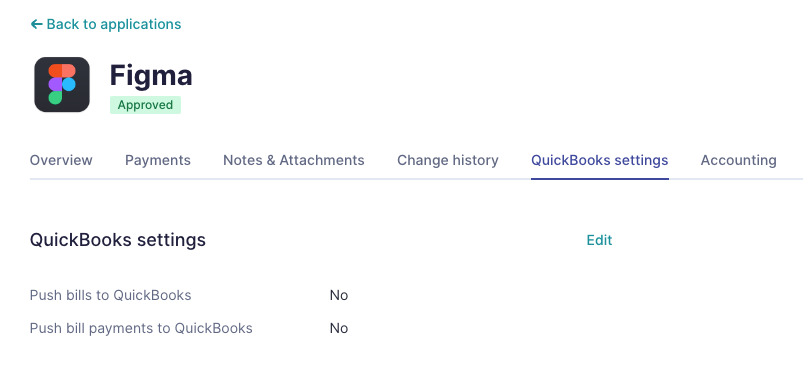 There, the app owner, Admins, and Finance users can determine how the transactions related to each application appear in the QuickBooks account, or whether they should appear at all.
If Push bills is turned on, Push bill payments will be turned on automatically, and additional fields will appear for further customisation. The dropdown lists can be edited from your Quickbooks account.
Push bill payments can be turned off independently if you find suitable for your application.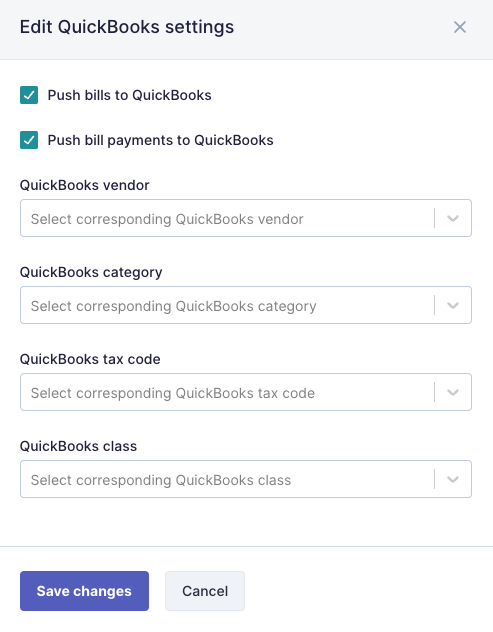 Once this form is completed and saved, any future transactions for this application will be pushed to QuickBooks once they are settled
To push past transactions to QuickBooks, head over to the Transactions tab. You'll see a column Sync to QuickBooks and a Sync all button.

This will push all updated transaction information to Quickbooks.
Note that the bill payment will not be pushed if the transaction amount is zero.
How it will look in your Quickbooks account
In QuickBooks, the transaction will appear under Expenses as a Bill and Bill payment, and, if the
invoice has been uploaded to Cledara, the file will come under the bill entry.