Here are some explanations as to why your invoices are not being uploaded.
The nature of the invoices
Cledara scans for SaaS subscription invoices from your inbox, so if the invoice does not belong to a SaaS payment, it may not get picked up and matched against the transaction.
The information on the invoices
Cledara uses the following information from the email to match the invoices to the transactions:
Name of the application: If the payment is made through payment systems like Paypal or Curve, it may take longer to match the invoice to the transaction
Payment amount: If the payment is made in another currency and has a different payment amount, it may take longer to match the invoice to the transaction
Date of invoice: If the invoice is issued ahead of or after the payment date, we might not be able to match it to the corresponding transaction
Note that if the amount of the invoice or the date is different from the transaction, it may not be matched.
Processing time
Your inbox is scanned daily for new invoices, which is subsequently matched to the transactions on our platform. Depending on when you receive the invoice emails, it could take 1-2 days for an invoice to appear in your transaction tab.
If the invoices are still not appearing after 2 days, reach out to us at support@cledara.com.
The connection of your mailbox
If the mailbox's last check time on your Integrations page is more than a day old, it is possible that your mailbox integration has dropped because your password changed or your login token expired.
When this happens, simply disconnect your integration and connect again through a fresh session. This will kick-start your invoice capture feature again:

Upload invoices manually to Cledara
1. The Payments tab
Admins can upload invoices in the Payments tab within an application.
Locate the transaction that you want to attach the invoice to, and click on the Upload button next to the transaction.
Once the invoice is uploaded, you will be able to see it by selecting View: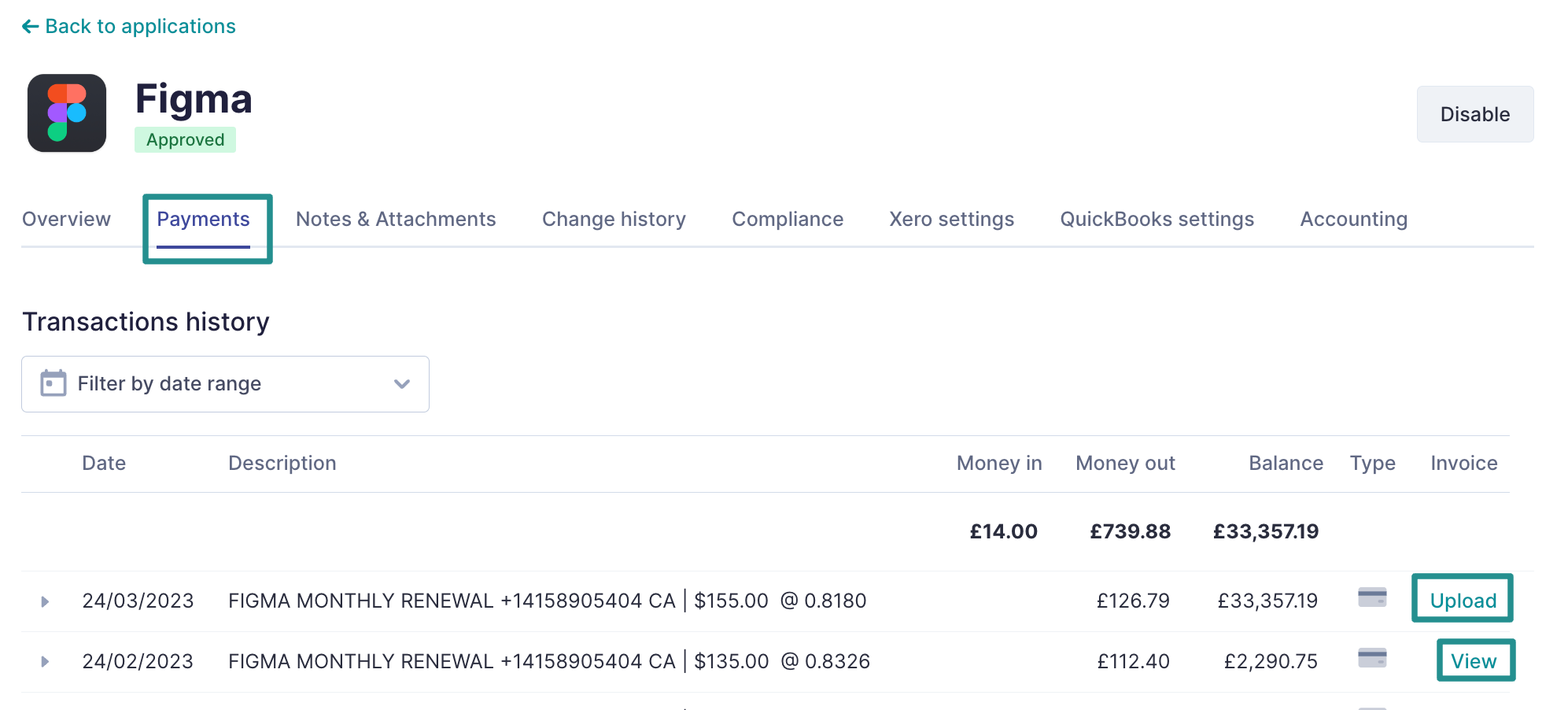 2. My Tasks
Apart from the Payments tab, Application owners can also upload invoices or resolve invoice requests for the payments under their app through My Tasks. Click here to know more about it.
The invoice, or the resolution for the lack of invoice, will then be reflected in the Payments tab: