Whenever you want to add a new user to your company's Cledara account go to Settings > Workspace Settings > Teams and Members.
Then click on the "Add team member" button:

A window will appear and you will be able to send an invitation email to the new user.
Once the invitation has been sent you will be able to check if the invitation has already been accepted in the members' list below:

Even before the new user accepts the invitation you can already assign them a team and a position.
To do so click on Edit > Edit teams.
You can now assign the user to a team and set them as a member or a manager of the team.
The invitation has expired? You can easily resend it or even withdraw it by using the edit button: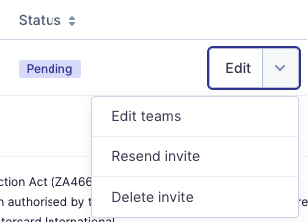 Once the member has accepted the invitation you will be able to set their role as a user, finance member or admin in Edit > Edit Role.