To get started with Cledara, you will first need to top up your account by arranging a bank transfer.
Log in to Cledara and head to the Dashboard tab.
In the "Spend Analysis" section, press the "Top up" button.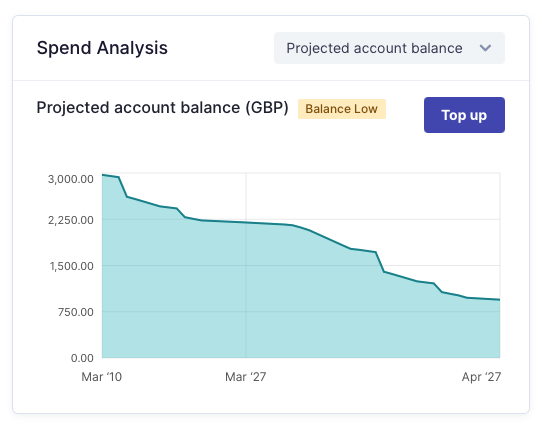 A new window will pop up showing the account details that you will need to transfer funds to your new Cledara account. These details include:
Account name
Account number
Sort code
SWIFT code / BIC
IBAN
Bank name
With those details in hand, simply log in to your online bank and arrange a transfer to your Cledara account.
You also need to make sure that you send the same currency into your account. For example, if you are adding to your GBP balance, you will need to send money in GBP.
Pro tip:
To further automate the process, you can arrange a standing order from your bank to regularly send funds to your Cledara account. The Spend Analysis will help you better understand your projected spend.
Here's a quick video to show you how to top up your Cledara account: