You have followed the steps here to deploy Engage in Chrome for your team so that you can see their SaaS usage without them being registered in Cledara, but you are not seeing them in the Engage - Users tab.
Don't fret! Here are some reasons why this is happening and how to solve them:
Users do not have the latest version of Engage
If Engage is deployed via Google Admin console, the Chrome Enterprise admin can see a notification when a newer version of Engage extension is available. You can also check the latest version here under Additional Information.
Remember to unpin the extension version in the Admin console to allow the extension to update. This makes sure that we keep getting your users' software usage data.
Users are not using Chrome
Since Cledara Engage is a browser extension, we do not pick up SaaS usage if users are accessing the tool in a desktop app.
And as you are deploying Engage in Chrome, we are picking up data from unregistered users only if they use Chrome browsers.
That said, if they are using Firefox, Safari, or another Chromium-based browser, Engage still works for them. They just need to register in Cledara and log into the extension on their end.
Users do not have the latest version of Chrome
Engage extension relies on Chrome browser to pass us information, so the browser needs to be up-to-date to respond to our data request.
Please check your users' browser version. If their Chrome has the

button on the top right, it means there is a newer version they can install.
Users are not logged into Chrome
For Engage deployments in Chrome, users are not required to log into the Cledara extension, though they do need to log into their Chrome browser so we know whose data to fetch.
They can do this here.
It is important that they log into the company email address. If they choose to log into their personal email, then they will have to sign into the Cledara extension directly.

Users do not have Sync turned on
We might not be able to pick their data up if they have Sync turned off in their Chrome account.
They can click on their profile icon at the top right of their Chrome browser to turn it on: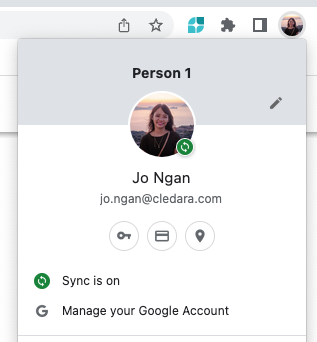 Alternatively, they can also head to Chrome Settings > You and Google:

Engage is not picking up your domain
Your team has done all the above, yet still, you are not seeing them in Engage - Users. It is possible that we don't have their email domains on our database.
This is because, by default, Engage guides the right data to your workspace based on the Primary Contact's email domain. This means that users with an email domain different from the Primary Contact's will not send Engage any data.
If multiple domains are used across your team, please contact Support at support@cledara.com who will verify your email domains and configure your Engage settings. The data will take around 24 hours to start appearing in your Engage tabs.